Are you a cat owner? Wondering what should you look for in a cat litter box? Well if so you should for sure read this cat litter box article!
Wrong cat litter box?
Is your cat pooping outside of its litter box? Wrong litter box can be a reason of it. Also changes in the household like litter changes or litter box and its placement changes can cause this kind of a cat behaviour. Do not force your cat to use the litter box he/she doesn't like but you prefer it. Use the litter box that your cat is fine with.
Modern cat litter boxes
Here you will be able to find some modern cat litter box best design for you and your cat. Keep reading the artile and get familiar with our examples of cat's litter box. Here goes the examples of modern litter boxes:
Litter-Robot 3 Wi-Fi self cleaning box – premium choice. This litter box has got an automatic night light which in fact is very helpful for senior cats. As this litter box is Wi-Fi enabled you can connect with it by your phone and get notifications, track of your pet's health habits, or you can even clean the unit remotely with the app. Its pros are for example this that it is suitable for even up to 4 cats that is why it is great solution for multi cat households. It has also automatic clean cycle which controls odor. Also it can help you to get rid of scooping. Its cons on the other hand are the price because it is very expensive and its noise can scare some of the cats.
Good pet stuff cat litter planter. This modern cat litter box has a very attractive plastic house for the plant at the top of it. This modern litter box has a cut out in the base and it allowes the cat to deal its business inside. This litter box has a filtered vent system to control odors. It is made out of durable polypropylene construction. Pros of this litter box are things like it offers the privacy to the cat. It is perfect for large cats and for multiple cats households. This modern cat litter box also doesn't need tending. It has one cons which is that the plastic plant is a chocking hazard.
Camada at tuft + paw the Rolls Royce of cat litter box enclosures. This is an amazing innovative design which top is a compartment (cats can climb there and do some exercises). This amazing modern litter box allows for the air circulation thanks to the multiple slatted openings.
Unipaws diamond litter box enclosure. If you are looking for a simple litter box but yet you still want it to be a stylish litter box this one is ideal for you. This litter box is made out of solid wood and is available in three colors. Those colors are white, gray and espresso. Its pros ae this that it offers to your feline a privacy. This litter box is also very easy to be cleaned. Its cons are this that it is a bit expensive.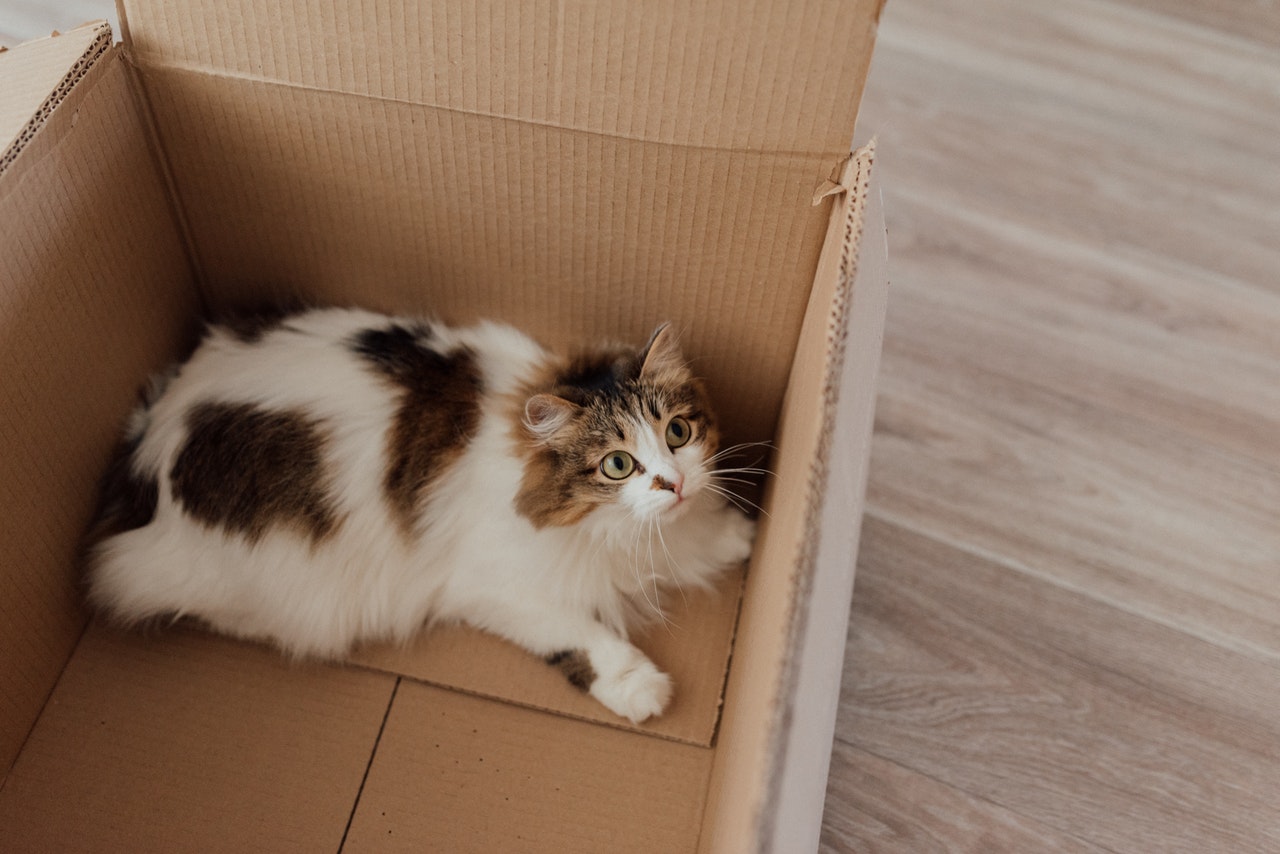 Iris top entry cat litter box with cat litter scoop. This entry litter box has lots of space on the lid, so your cat can move around. This top entry litter box is just perfect for high spraying cats. Its pros are for example this that it cleans the cat's paws. It is also preventing high spraying and is easy to be cleaned. It has cons like dogs can enter into it and have access to cat waste and also this that the grooves do not capture all the litter. Litter box with a top entrance is in fact an amazing option for those who also has got a dog in the house.
Iprimio stainless steel cat litter box. This litter box is resistant to bacteria growing on it and can simply be cleaned. This awesome litter box doesn't rust or stain. It is an open litter box so it won't be an excellent choice for those who needs covered boxes.
Omega paw roll n clean self-cleaning cat litter box. It is the best option for multiple cats. This amazing litter box helps you to scoop out clumped waste. When cleaning time comes just turn it upside down and roll it back into the upright position.
The cove litter box at tuft + paw. This cat litter box has built in cleaning tools, isn't that cool? It also has cleaning features which are integrated scoop, dustpan and also hand brush and also hidden handle at the bottom which is very easy to move it around.
The scoopfree litter box. This litter box will require a special crystal litter which has odors, absorbs liquids and also dehydrates solid waste. This litter box makes you fine with even weeks between scooping.
Tips
you can hide your cats litter box in laundry room or behind closed doors for his/hers privacy preferences,
get accessories like walk off mat to keep your floor clean from cat kicks,
don't forget to choose those litter boxes which are easy cleaning,
check the litter box quality and also other factors before getting it for your kitty,
you should buy litter box which length longer or at least the same as cat's body,
don't forget the rule of numbers if litter boxes. If you have one cat you should have two of them. If you have three cats you will have to go for four boxes,
if you need to safe time you should go for automatic cleaning litter. Those self-cleaning litter boxes reduce odor and also provides clean litter to save your money.
Conclusion
Pets are very important to us, we treat them as they are the part of our family, so wy not to give them good and comfortable place to poop.
Now you know all of the best litter boxes possible to get for your cat and interior match. Most of those cool litter boxes can also be awesome home décor to your home style and help you with unpleasant smells.
If you know now what kind of a litter box is ideal for you and your cat go to store and get it. Make your life easier with good litter match.