Macrame art become very popular nowadays. There are many people creating macrame wall hangings and other very beautiful ornament. If you are intrested in macrame's or even if you are not, keep reading the article it for sure will make you feel interested.

Bring boho vibes with macrame wall hangings
Boho macrame style can bring an exellent vibe to your living space. Those macrames can simply give you a boho paradise. Thanks to macrame art you can have planty of modern things very often done by yourself. You can create things like:
macrame wall hangings,
bracelets,
plant hangers,
table runners,
key chains,
christmas tree decorations,
bookmarks.
Boho macrame wall hanging is also a great option for a gift! All you gotta do is to make a macrame project and start making it.
Diy macrame wall hanging
If you are looking for wall room decor there is no better idea than macrame on walls. They will add texture and lots of style to your room. Here you will find informations like:
how long does it take to make a macrame project,
what kind of materials are needed to make a macrame,
what cord and how much cord is needed for a project.
Keep reading to find answers to all of the questions!
How long does it take to make a macrame project?
In fact it all depends on the project itself. Let's take a look at some examples. If you will want to make plant hanger it will take you only about an hour. However when you will want to create more intricate DIY macrame wall hanging it can even take up to 4 or more hours.
What kind of materials are needed to make a macrame?
If you want to make a macrame and you are wondering what kind of materials are needed here we are to help you. It of course depends on the project which you are making, however the basic materials and tools to make macrame are:
macrame cord (which can be for example a cotton rope),
stick, dowel or a rod,
scissors,
measureing tape.
You will be able to get those stuff in local craft store or search for them online if you prefert to order those.
What cord and how much cord is needed for a project?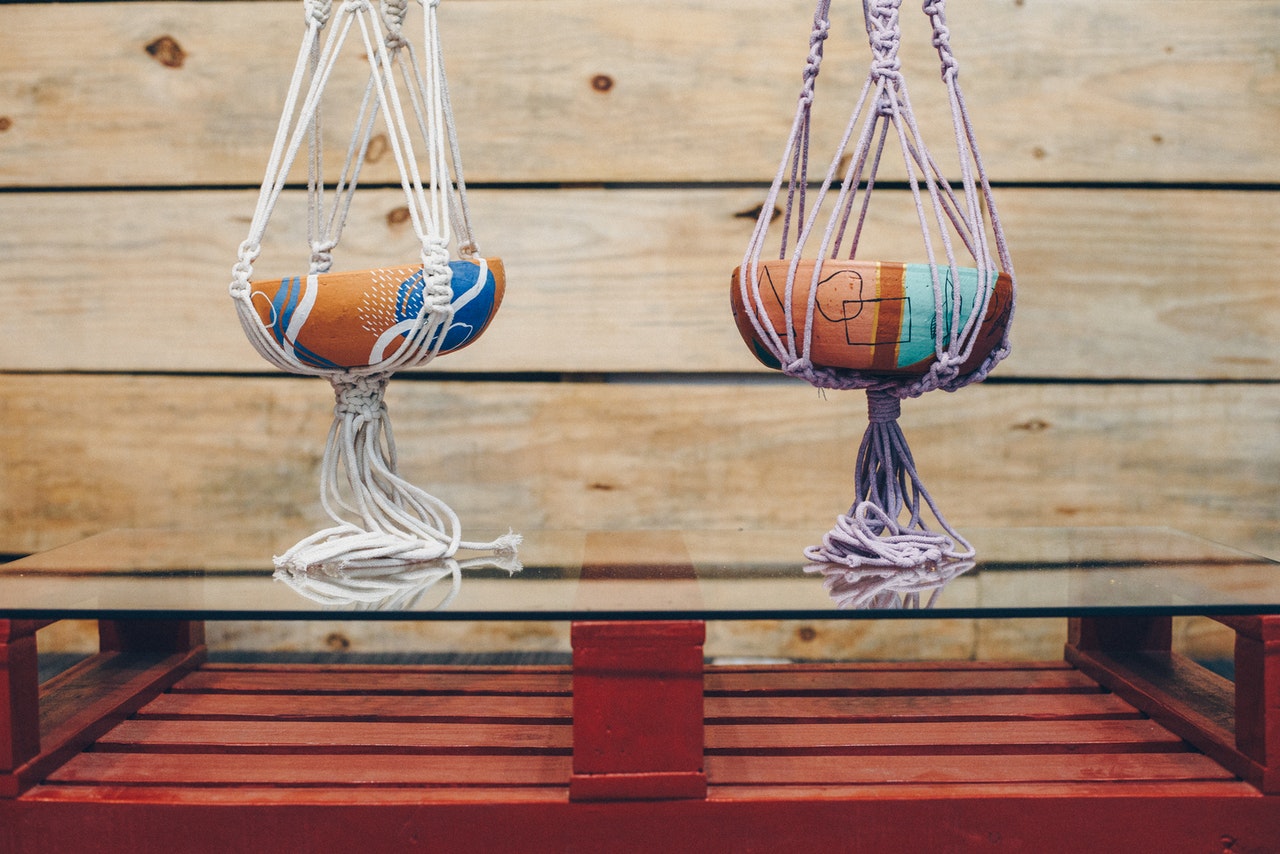 Let's firstly talk about cord types. You can in fact use all different kind of rope or strings. People are using clothesline, jute and sometimes even yarn.
If you are wondering how much of it is needed for a single project, here goes your answer. To make a project of your own you should follow general rule of thumb which is saying that your cord should be 4 times he desired length of your finished project.
Elementary macrame knots to learn
Here you will be able to find elementary macrame knots that you should learn firt if you want to start making macrames. Here they go:
Lark's head knot,
Square knot,
Double Half-Hitch knot,
Spiral knot,
Berry knot.
Lark's head knot
To make this knot firstly you should fold your string in half (this will create a loop). Now you should fold the loop over the stick so the tails are in the front and the loop is in the back. Now time comes for putting the tails through the loop in the back. Pull it tight to secure the cord to the stick.
Square knot
To make square knot you will have to attach two stands of cord, side by side using the lark's knot. To make this kind of knot you will need to use two outer strands of the cord. The two middle stands will be working as a base.
Firstly you will have to make a "4" by the left strand of cord, going over the two middle base strands. When you are done with those you will have to go under the far right strand.
Now you have to take the far right strand, and keep it over the tail of the left strand. Now go behind the two bases strands and also through the "4" loop that the left strand created.
Pull the tight and reapet these steps. You should start with the right strands of cord. This will make backwards "4". Pull it all tight to create a square knot.
Double Half-Hitch knot
To make this knot you should add a couple more cords to the sick to practice. This knot is great to create lines in the work. First step should be taking the far left strand and hold it diagonally across all of the others with the right hand. This will be your holding cord and you will work with the other ones. Now take the next working cord under the holding cord which is in your let hand. Then loop it around the holding cord. Loop it around the holding cord to where the loop is facing down and the tail of the working cord is up. Now pull it tight up to the top loop and repeat with the same look around the holding cord. Now when you have two loops around holding cord. The tail of working cord which is coming out the middle of the loop, from behind the working cord. You should continue the same knot on working cords and still keeping diagonal holding cord the same. You should stop it when you are in the middle of the cords. Keep doing the same loop knots but this time you should be going diagonally to the left, with use of the far right cord as your holding cord. Now create one last knot to join the two sides by using this far right holding cord.
Spiral knot
This knot is in fact very similar to the square knot. The differance is one instead of alternating the "4" pattern between the left and the right strands, you will just continue working with only one of them. Easy huh?
Berry knot
This knot is lovely and decorative. This knot is very easy. Firstly you should start by doing a three square knots in a row. Tip: make sure to leave a small space just right above the first square knot. Now take the tails of your knots and now loop them through the middle of the space you were supposed to be left above the first square knot. Now pull the cord tails down right behind the work of yours creating a little berry ball with the line of square knots you created.
Now you know all of the basic knots and you are able to create your own gallery wall of wall hanging macrames. If you know basic knots you can even create your own patterns. Isn't that just so cool?
Facts
with help of macrame you can bring modern as well as rustic style to your home,
you should measure space of the wall before you will start creating your macrame. Because one its done and hang it can it may turn out that it is way to big,
if you are a person who likes boho style you can go for multicolor design of the macrame pieces,
you can use driftwood or a branch which will give even more of the cool look,
Conclusion
We hope that this article made you ready to create even large macrame wall! This article was all about the basic knots and basic informations starting from materials ending on knots. Now everything should be clear for everyone!