Velvet furniture are really beautiful, however how to clean velvet furniture in the right way? Are you maybe wondering how to do it? If so this article is just right for you. Keep reading to find out many usefull tricks and informations.

How to clean velvet upholstery?
In pat velvet was high maintenance and stuffy which made it very hard to be cleaned. Nowadays velvet material isn't in fact much more difficult to clean than any other fabrics or materials. Here goes some of the things that you should do to keep your velvet furniture looking good:
vacuum your velvet upholstery weekly,
steam for removing creases,
get rid of spot stains with help of a paper towel,
overall cleaning velvet furniture,
blot with cleaning products,
brush the fabric.
Vacuum your velvet upholstery weekly
To do so you should use vacuum with upholstery or dusting brush attachment. Now when you have this kind of brush start at the top of your velvet couch. This brush will in fact only lose the dust anbd soil but thanks to it it can be suctioned away. Now you will need another tool which is crevice tool. This will help you to clean velvet sofa between the arms and also between cushion space.
Steam for removing creases
It is very important to remove creases becuase if you won't do it they can become pernament. Also if the won't be removed the velvet fabric can become exposed. Normal clothes steamer will do great. Use a low steam setting if you want to avoid melting the fibers.
Get rid of spot stains with help of a paper towel
You should blot the stained area away right away when the spills happens. Don't use the same paper towel all the time, change it to new one until there is no more moisture is being absorbed. if you want to spot treat any type of stain you can mix couple of dishwashing liquid drops in two cups of warm water.
Overall cleaning velvet furniture
There will come time that your velvet furniture will need to be cleaned whole. This overall cleaning will leave your upholstery even more in color than if you will continue spot cleaning.
Blot with cleaning products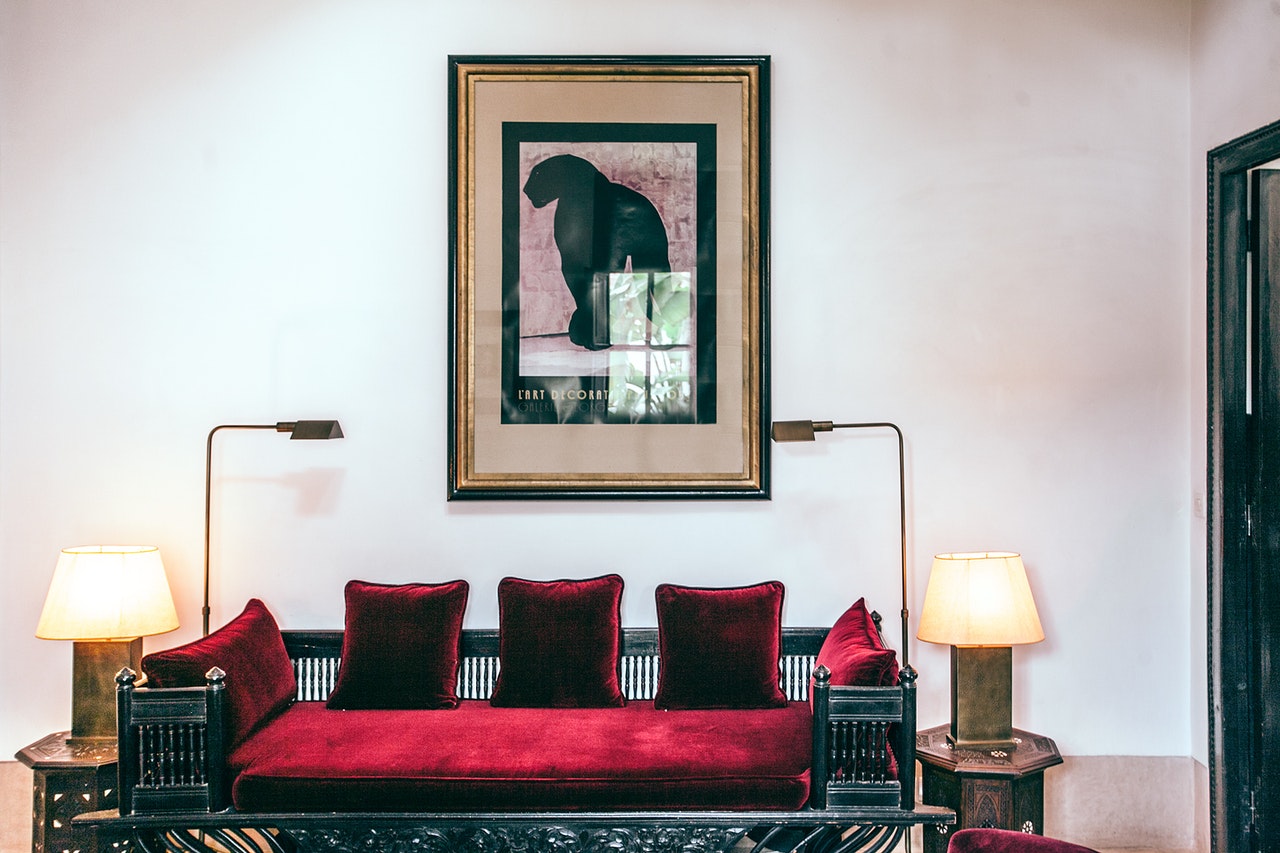 If you will see that there are still some stains you could try blot the stains with help of various cleaning products. It would be the best if you would test the cleaning materials to make sure that they wont get damaged – wait for about 30 minutes and see what happens. Now you can dip soft cloth in the soap and water (just the suds) then wring it out until it is damp. You should blot the stain multiple times before dipping it the cloth again. Reapeat this until stain is still on.
Brush the fabric
When you are done with wet cleaning velvet furniture wait unitil its dry then you are free to gently brush it in the direction of the pile to restore its original look and not to destroy velvet fibers. If everything will go how it is supposed to go your velvet furniture should look just like brand new.
Dry cleaning method – dry cleaning detergent
When your velvet furniture is wet you should dry it out with help of paper towels or cloth. Now when its dry you can use dry cleaning detergent. Put it on a soft sponge and then blot the stain in rapid way. You are supposed to let the cleanser dry entirely. You can use hair dryer or a fan to speed the drying process.
DIY velvet cleaning solution
There is a very easy way to make your own cleaning solution for heavier spills. You can do that by mixing a few drops of dishwashing liquid with a cup of water. Yes, that is so easy!
Color fading of velvet furniture
Fading in fact is natural process when things are exposed to light. However velvet is very sensitive when it comes to color fade. If you want to avoid color fading of your velvet furniture you should choose place to put it which isn't full of direct sunlight. You can also use a throw blanket over the sun exposed areas.
Tips
It is very important to remember that there are two main kinds of velvet which is cotton velvet and synthetic velvet. If you live in a house with pets and kids you should go for velvet piece which is synthetic velvet becuse it is way easier to care for.
If you cleaned your velvet furniture and you don't have enough time for it to air dry you can youse blow dryer on its lowest setting which will speed the process.
velvet is plush and in fact has got higher pile which means that it has taller strands of fabric. Thats why it can compress when is under pressure. However youcan help that with a steamer.
Conclusion
Now you have head start above the stains on a velvet furniture doesn't matter if it is a velvet chairs or velvet sofa. However if non of those cleaning methods will work you may need help of a home décor or cleaning expert.