If you are new succulent plants owner and are wondering what should be the care of them this article is just ideal for you. Keep reading to find out all of the things which are needed to care for succulents.

How much sun does succulent plants need?
Were you wondering how much sun does succulent need? Well the short and fast answer is a lot! In fact many succulents might be very challenging to maintain indoors. Why? Because they have huge lighting needs.
Windows aren't offering as much light as the plant would get outdoors. That's why many succulents end up struggling to thrive or even to survive. That is also why many of them struggle to survive even on the brightest windowsill while growing indoors.
Ideal succulents as indoor plants
Yes, there are succulents which prefer low light and aren't in fact growing fast. This makes them wonderful indoor plant and also easy to take care of. Those succulents for example are:
snake plant,
aloe vera (tend to be naturally green),
mistletoe cactus,
panda plant.
Growing succulents indoors is not that easy as it might seem to be and yes sometimes it is way easier to be growing succulents outdoors.
Low light succulents
In fact there isn't something like low light succulents because they all need bright sun. However here comes some options that will survive at around 500-1,000 foot-candles:
christmas cactus/thanksgiving cactus – those cactus are jungle cacti that is why they are more used to shaded conditions,
haworthia – this plant will handle a bit of light, however will do just fine in bright windowsill,
ponytail palm – this cacti loves lots of light however will do just fine from 00 foot-candles or up.
Succulents love direct sun
Succulents in fact needs and love sun. Most succulents thrive when they have at least about 4 to 6 hours of sun per day. It is very important to acclimate them to direct sunlight.
Succulent gardening may not be that easy as it seems to be. They need protection from sunlight and intense heat. Succulents which are red, gray, blue or covered densely with spines fare way better under direct sunlight.
Too much sun for succulents?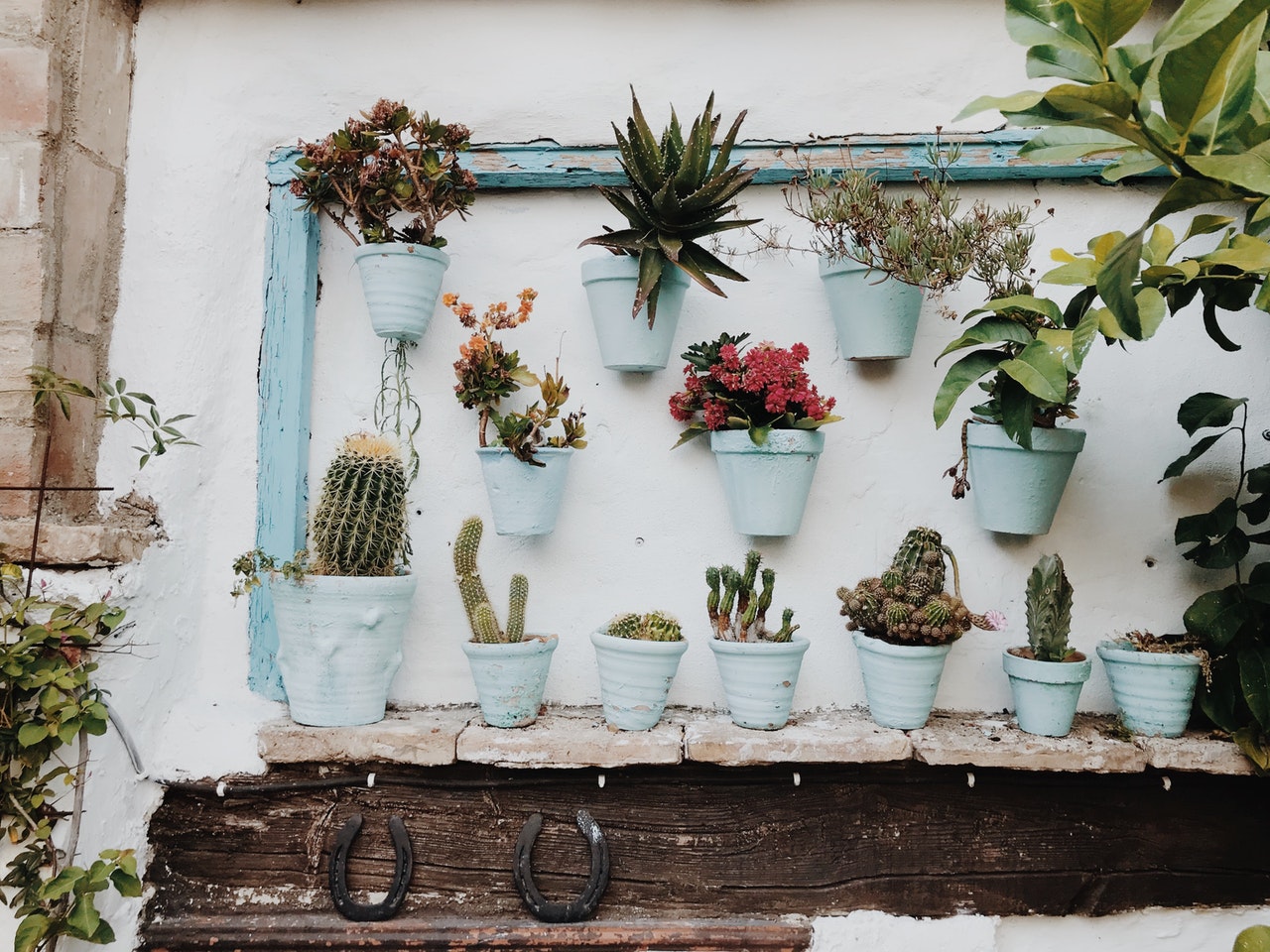 Thats right succulents love sun but too much of it can cause sunburn and damage that sun can cause. In fact such a sunburn can happen very fast because it may take only one hour (especially durnig a heat wave) to those succulents outdoors.
First signs of sunburn are brown spots on the leaves. When sun stress will be recognized early it is way easier to avoid further damage to your plant.
What should be done durning heat wave?
There are few things that you can do to help your succulents durning extremely hot temperatures. You should provide them shade and promote humidity.
When it comes to providing shade it is the best things that you can do durning heat wave. If you are aware of heat wave coming you should think of providing your plants shelter. Those small plants in containers can be moves to less sunny location or even can be taken to the house to avoid this intense light.
However when it comes to promoting humidity we know that succulents doesn't like to sit in water or be overwatered. But under this intense sun and bright light durning heat wave it is necessary to look for adequate moisture on your plants. Remember to check your soil for moisture.
Adventages of growing succulents outdoors
Growing succulents outdoors may be way better for your plant than growing indoors. Here goes some of the adventages of growing outdoors your succulents:
a lot of natural light – when growing outside they have way more chances of getting enough sunlight,
rain water – watch you succulents after a good rain. You will notice that they look healthier and happier,
exposure to natural elements – it is very important for those plants to recive fresh air to thrive. They in fact need the oxygen for photosynthesis and to breathe,
pest and children protection – keeping plants outdoors keeps them away from kids and animal and your head from troubles.
Quit indoor growing and go for outdoors growth.
Tips
If you are wondering if succulents are getting enough light you should look on the way it has grown. If the succulent is getting height or new leaves shows up it means that it is etiolating.
If you are looking for plants which are going to be reveling in sun you should go for opuntia or prickly pear cacturs. Those plants can be identified from other cacti species by their round and flattenned joints.
Prevent sun burn by giving your plant partial sun and partial shade this for sure will keep your succulents alive. Later on you can give them more and more light (sun exposure). Good advice would be to start with the morning sun which in fact is less intense.
Do not give your succulents to much water and lower light than they need. If you do so they will succumb to root rot. Water them when the topsoil is completely dry.
you can use sunlight alternatives. There are two main types of grow lights – LED's and fluorescent bulbs.
Conclusion
Not all succulents are cacti however all cacti are succulents. Now you know that succulents need sunlight after all they envolved for milions of years with just the light of the sun, and they were doing just fine!
We hope that this article made it clear for you and explained you what is the best succulents care!