Have you ever been in the woods and found stairs kinda in the middle of nowhere? well it happens and it of course has its story. Most of the times its nothing interesting because someone has just probably had built a structure of a staircase and abandoned it. Thats why you wil find just a staircase and no other structure. But there are lot's of stories about stairs lead to nowhere and even the creepiest stories that finaly comes to fictional stories just becaus of abandoned stairs in the national forests.
Some of those stairs in the woods has iron spirals, some are brick, some are metal stairs, some of them can barely stand and others are perfectly sturdy. There are many stories that goes with stairs in the woods. hiding place
Mysterious stairs in national parks
Some of those mysterious staircases are just probably leftovers from old towns or building which are long gone but some of those abandoned staircases looks like new. It is portals like for example Reddit which started this all story with weird stairs that where places in random places. It turns out that mysterious stairs aren't uncommon and many of them have been around for centuries or millennia in many countries not only in The USA.
For example there are famous staircases like:
The Etruscan Pyramid of Bomarzo – nobody knows what had happened on this staircase or what they been used for.
Mount Phnom Kulen – this one is 2000 foot-long abandoned staircase. Experts doesn't know why and who had built them in that place.
Madam Sherri's Stairs – in the 1920 musical hall singer named Antoinette Sherri built her castle in the woods. It wasnt a real castle it was rustic rench chateau with a stunning sturdy staircases. This woman organised lots of parties in this so called castel and many scandalous things happened there to be belived.
Ranger's creepy stairs, vanishing staircase and few other legends of mysterious staircase
(Philipines) there is a legend that is called The staircase of a missing time – it is a story about experienced ranger which is often asked to look for a missing people that got lost in the local jungles which happens often. All of this tale is one from one of those searches. Toki was looking for someone and then he clames found two of those stairs. He did climb on them he didn't find anything that would show any sign of a missing person but he noticed a stray dog which looked vicious, he went up on the stairs to avoid the dog. When Toki came back to the civilization he found out that he has been fired from work and been told that he has been gone for 5 years but he felt like it was only few hours while he was on the patrol.
The Vanishing Staircase 1940s – this legend says that man who said been working with CDC told a story about vanishing staircases in the woods. He says that CDC has been called to assist in the investigation. Durning this time many people raported weirdly looking stairs that were giving off some type of frequency. He also said that their campsite were situated about 30m away from the stairs but when they woke up the stairs had moved.
Another legend is about Ghostly Staircase (Sweden) – this story is about two Swedish students who went out hiking. While their hike they had found mysterious stairs. On of the students wanted very much to climb the stairs and so he did. When he did climb only a few seconds later both of them heard scream. This scream was a sign that they are severely unwelcome there and it made them run but when they stopped to take some breath one of the studens felt someones hand on his shoulder but it wasnt his friend because he was way to far to be able to touch his friend.
The Ranger's Creepy Stairs in the Forest – this tale is about a forest ranger man that also climbed on top of randomly putted stairs in the woods and help out his hand just to grab a branch of a tree and then his hand was cutted off. It was a nice clear cut but what what even weirder is this that the hand couldn't be found.
Just a staircase – several theories
On the social media users has been telling lots of stories about staircases in the woods, about random isolated stairs in the Woods and Their Creepy Stories. Social media users had been shearing several theories. Maybe you have your own experiences maybe with national parks and stairs in them?
There are theories like those stairs are simply the beggining of long lost settlements. The stairs because of its sturdity stayed while wooden structure of buildings has rotted. But there are people who has got some more sinister ideas like they arent stairs but some kind of getaway to hell for example.
Tales told by people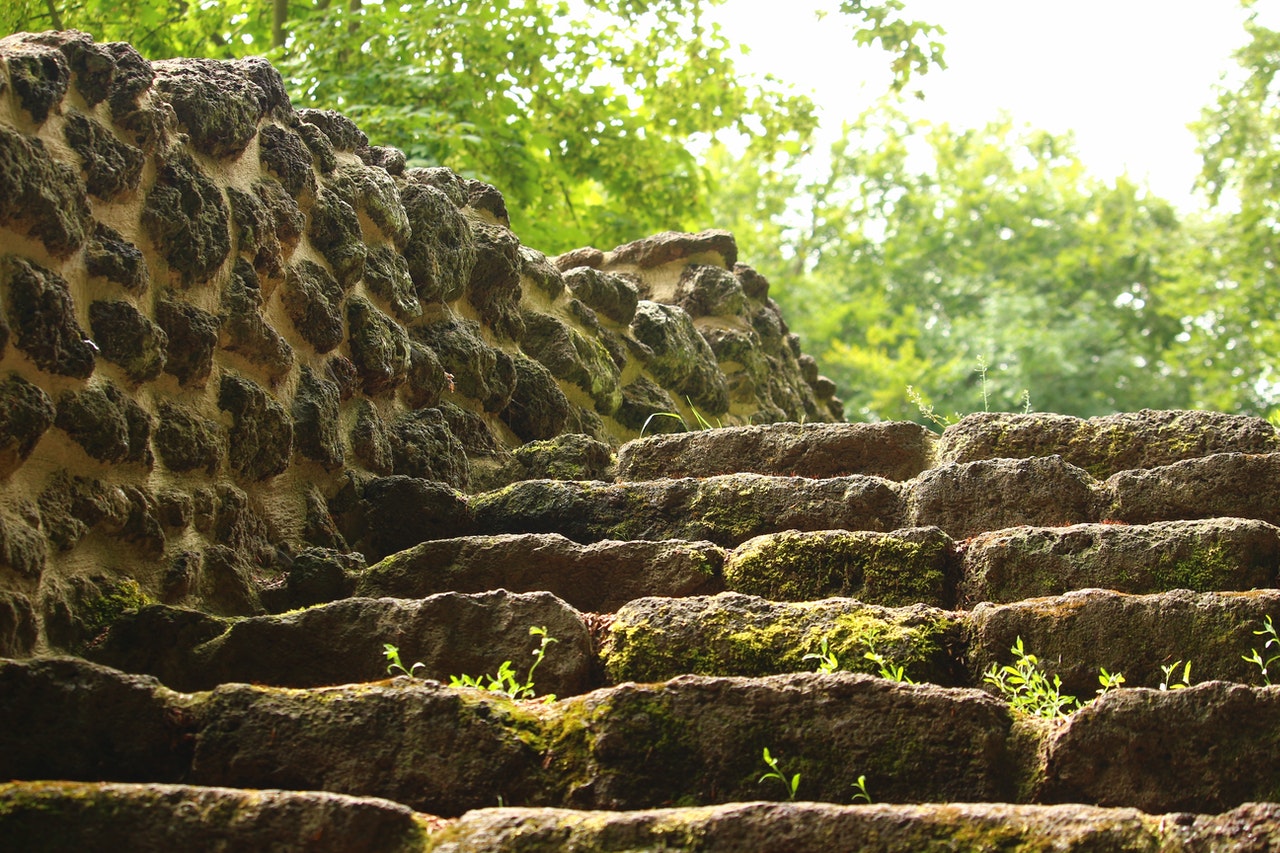 One one of the social media platforms user said his history with weird stairs. He said that the stairs been looking like normal suburban home it took place in the woods an hour east of Iron Wood explained. He and his cousin was hiking and exploring. Older cousin decided to investigate this this structure attached to nothing. There was nothing weird there beside this that grass wasnt growing around the stairs. There is another reddit user who clames that had been in the woods of rural West Virgina and came on just a set. When he saw the stairs he had thought that maybe there once was a house but he didn't find the celler or even other debris what would confirm that there was a home once. Stairs in the woods was perfectly sturdy and he could barely shake them. Third person had told his history of a stairs in the woods. He and his family were visiting gramps in southern norway. They went for a hike in the woods they took with eachother their nephew a nd niece so they were playing hide and seek and he reader joined them. While grown ups had been drinking coffee. While playing hide and seek they found staircase. Story teller couldnt stop the feeling that he wasn't wanted there and till now when he is thinking about it it gives him the same sort of feeling.
As you can see tales are appealing and you can't deny that there is something inherently discomforting about abandoned buildings and ghost towns. Those stairs in the woods are an echo of those who had been here and has passed with little trace. You can barely imagine those time when our ancestors endured hardships of different things. They had left after themselves gravestones and maybe few staircases in the woods. So maybe one day if you will take just a walk in the woods and take just about every case of stairs in the woods all together. Maybe somehow you will see one of them think about your ancestors give this story a little bit of nice feeling and stop creepy happenings from happening.
Are you maybe wondering if there is someone who took pics of those stairs in the woods? Yes there are few people that took a pic. They said that when they found stairs in the woods while they were there they didnt really know what to do so they just took a pic. What do you think are stairs in the woods explained?
Conclusion
As you got familiar with this article, what do you think of those vanishing stairs? Isn't that just such an interesting thing? Well We hope you enjoyed our article and that it somehow made you interested in mystery stairs subject!